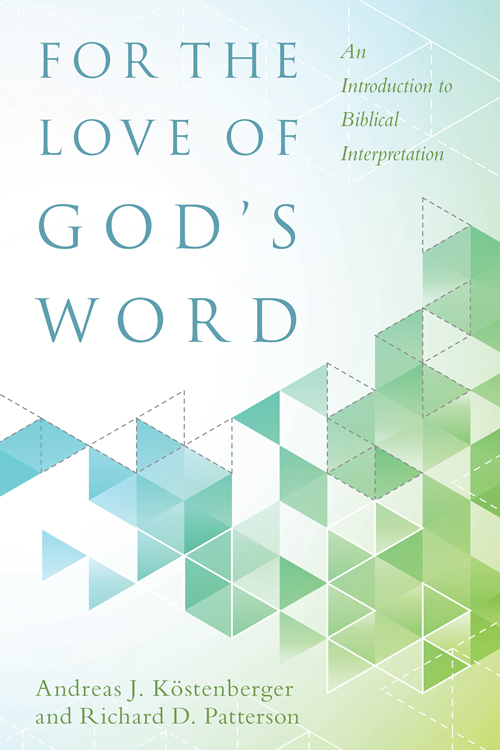 I love books on understanding God's Word better. And I usually enjoy books from Kregel Academic and Ministry. So, I am pre-biased in favor of For the Love of God's Word by Andreas Kostenberger and Richard Patterson. Throw in that this is an abridgment of their Invitation to Biblical Interpretation, which I really liked, and I must admit that it would have taken a complete hack for me to dislike this work.
For what it's worth, I hope the authors don't mind that I start by saying this isn't a complete hack. In fact, it's a quite useful work for the shelf of the local pastor. While you should, if that's you, have the larger work, here's why this one is worth your shelf space as well:
1. It's only half the weight, and about an inch and a half thinner than the large volume. Having just moved, that's a bigger deal to me than it is to you.
2. The material remains solid. The Kostenberger/Patterson idea of the "hermeneutical triad" is an excellent concept for studying Scripture. The three sides: history, literature, and theology are all critical for grasping the concepts in a text. While all of these are more clearly teased out through the book, here's the summary: "history" refers to the actual setting of writing; "literature" to the specific genre of the selected text; "theology" to how the text fits within the Bible's overall message.
3. Throughout the book, these ideas are developed in better detail, including specific applications for each genre of the text. The second chapter provides an overview of the historical setting of the Bible. Obviously, deeper study needs specialty books in each of these areas, but this is a great introduction.
4. I like this as a "deeper" training work for ministry development. For example, if you are working on mentoring future ministers and teachers without needing the academic information in a larger text, this is a good book for that. There is no major dependence on original language knowledge, allowing the text to work early in the mentoring process.
5. The title sums it up nicely: for those of us who love God's Word, it's worth studying well and doing it right.
I did receive a copy of this book from Kregel Academic in exchange for the review.